Business Banking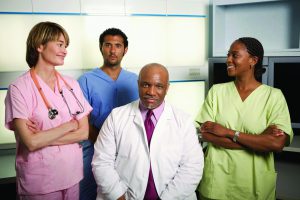 Business Banking with A Community Bank
PointBank offers business checking account and online banking solutions for small business and business owners.
We're not trying to toot our own horn, but there is a reason why PointBank is the best business bank in Denton County. It starts with our free business checking, a no-brainer for us and a huge differentiator in a financial market where paying monthly fees quickly have become the norm. The PointBank difference continues into our lending programs, where more than 130 years serving Denton County has provided us with the knowledge of what small business owners truly need from their bank, and goes even further as we look beyond the standard products and services to provide value you simply can't find anywhere else.
At PointBank, small business owners have access to it all:
Free Business Checking
Custom Loan Solutions
Treasury Management Services
Free access to local networking events
Speedy and local decision making – not by someone in another state
President and CEO you can speak with in person
And so much more …
A financial institution can have great products and services to entice business owners to bank with them. But if there is no loyalty to its customers or strong foundation to build from, then the customer simply doesn't get as much from the relationship. PointBank has become the symbol of excellence in business and commercial banking, not only because of our cutting-edge technology and industry-leading products, but because it's all supported by our unwavering commitment to molding our services to what local small business owners need most.
Our products and services are unlike anything out there in the industry today.
Our business checking account options satisfy the needs of all small business owners, whether you've been growing your business for 20 years or you're the new business owner on the block looking for an extra boost. Our accounts are simple, straightforward and come with enough perks to help your business continue moving in the right direction.
PointBank takes the hassle out of having a savings account so we can help set you up for future success. Our products include standard savings accounts all the way up to term CDs that can be used as collateral for loans.
PointBank takes the hassle out of having a certificate of deposit so we can help set you up for future success.
We recognize that you need access to your money to pay vendors or purchase supplies 24/7. A business debit card from PointBank comes standard with every business checking account and works just like a check, only faster.
You trust PointBank to protect your money. Now trust us to protect your family valuables. PointBank's safe deposit boxes offer the ultimate safety and protection for your priceless family jewelry, rare coins, important papers and other valuables while still keeping them within reach when you need access. Our safe deposit boxes are vaulted, sealed and are available in several sizes to meet your individual needs – all for an annual fee that won't break your wallet.
Available sizes: 3×5 • 3×10 • 5×10 • 10×10
Contents are not insured by FDIC or PointBank