News and Press Releases
PointBank is the leading community bank in Denton County because each and every one of our employees is focused on giving back in as many ways as possible. We invest in local businesses, churches, schools and neighboring charities, and by doing so, we keep more local dollars in our community – where that money belongs. Continue reading below to hear all about our latest achievements, news from the banking industry and local economy, upcoming events near you, and special announcements from our local branches.
Trailblazer: PointBank's successful rewards program
Best of 2017 – People's Choice for 2017: PointBank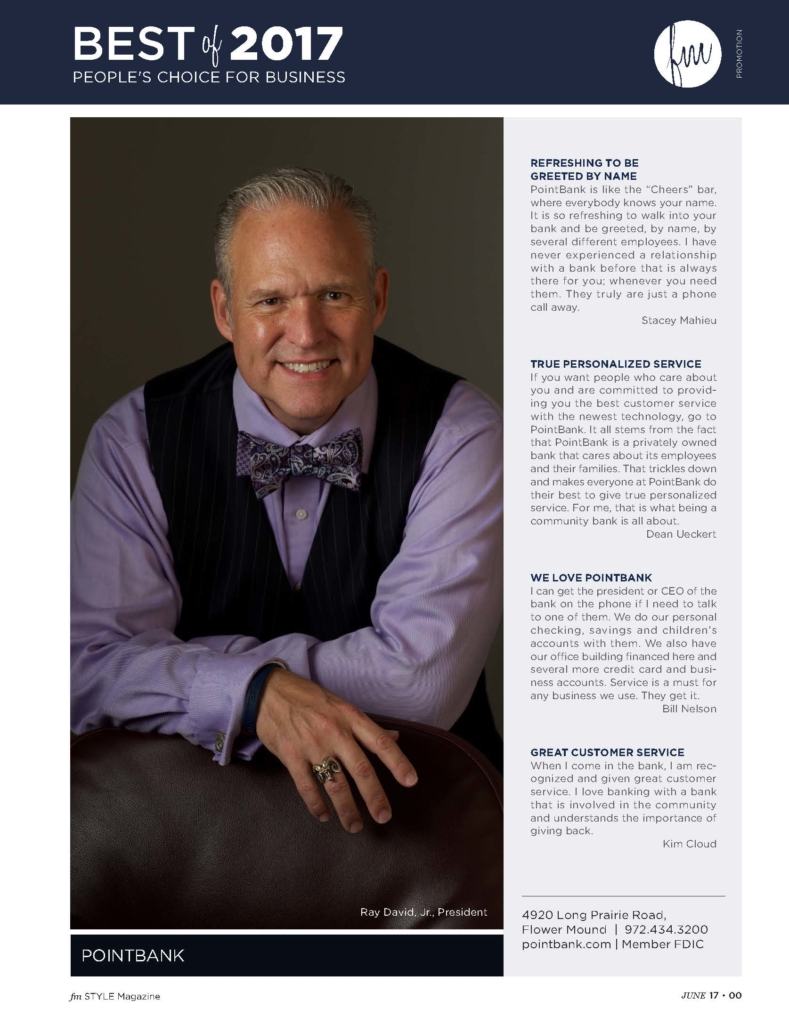 A Lifetime of Banking: PointBank's J. Raymond David Sr. Celebrates 50 Years in Banking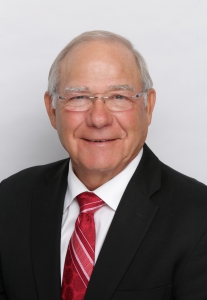 PointBank CEO J. Raymond David Sr. began his banking career in 1962 as a bookkeeper for First State Bank in Denton. It was clear very early on that David – a college student at the time – wanted to learn every nook and cranny of the industry, and by the time he left 14 years later, he had worked in nearly every department that bank had to offer.
Mr. David still is very hands on in what has become nearly a lifetime in banking. He is the enduring face of Denton County's oldest community bank, and in March marked his 50th anniversary in banking.
But as far as David is concerned, that's not an invitation to slow down.
"I've always said that so long as the good Lord gives me a strong mind that keeps me from messing things up, I will be here," said David, who is 74. "I have no intentions of retiring. I still love coming to work every day."
With the exception of a short stint in the restaurant business, banking is all David has every really known – and loved. After leaving First State Bank of Denton in 1976, he spent four years working in management for Grandy's restaurants before leaving there in 1980 to open an Orange Julius restaurant that same year.
The lure of banking continued to call, however, and on March 9, 1981, he succeeded Ralph Burton as the President of Pilot Point National Bank. That community bank is now known as PointBank.
Over the last 36 years, David, and eventually his sons Ray David Jr. and Jonathan David, have helped grow PointBank from a single-location bank of around $18 million in assets to roughly $475 million today. That has included the addition of eight more locations in Aubrey, Argyle, Denton (two locations), Lake Cities, Lewisville, Little Elm and Flower Mound.
David's love for banking has created a culture at PointBank that has allowed him and his employees to be stewards of the community while continuing to buck the trend of the stodgy and impersonal style that tends to dominate most too-big-to-fail banks. There are still long-term customers who seek out Raymond in person, or call him directly on his cell phone. And employees feel comfortable simply calling him Raymond when they see him in the branches.
The goal is to treat every customer like the only customer, and that mentality has thrived despite an ever-changing financial landscape. If you talk to David, it's clear how dedicated he is to his customers, employees and the community.
"You want people to come in and feel warm and welcome," David said. "Banking has changed dramatically over the last 50 years, but the thing that makes me most proud is that we have always been about customer service and serving the community. I have always appreciated that about being in community banking."
Though he turned over the reigns of President to Ray in 2004, David has remained as the bank's CEO. Looking back, he couldn't be more proud. And as he puts it, he's still got plenty to learn.
"To be honest with you, until the 50th anniversary came up, I didn't realize I had reached it," David said. "Coming to PointBank was a chance to come home, and my greatest accomplishment so far has to be watching the growth of PointBank and being able to help people."
Feature on The Ambition Project Show
January 2017 Episode 30:Entrepreneurs' Most Valuable Resource – The Community Banking Relationship "On this episode of The Ambition Project Show, PointBank's president, Ray David, Jr. sits down with Deirdre Sanborn and shares some of the hidden benefits of working with a community bank. He also details the differences between a community bank and a big bank as part of a series created especially for business owners who are seeking alternative ways for funding and growing their business. Find out more how a community bank can help you and your community."
2016 Faces of Flower Mound Style Magazine

Face of Community Banking: Ray David, Jr.
December 2016 Independent, locally owned PointBank has served our communities since 1881, making it the oldest bank in North Texas and the longest standing financial institution across Denton County. PointBank continuously invests in the latest advancements in technology and is amongst the first to bring them to Denton County. "While we are constantly looking for more innovative ways to be at the top of our industry, you can walk in and still shake hands with the president," says David. "Every customer is treated like our only customer." When it comes to products and services, David prides himself on running a bank that grows and adapts to customers' needs. For area entrepreneurs, that means having a bank willing to provide loans to start, grow or even enhance their businesses. "Unlike bigger banks, we have the opportunity to know the person behind the business." David says. "Our motto this year is, 'We loan it. You grow it.'"
Family Business Association student group and UNT College of Business recognize PointBank as Student's Choice for Family Business of the Year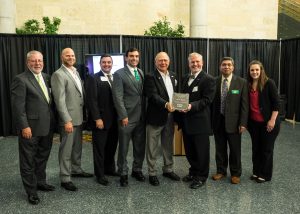 Officials for the bank say sky's the limit in budding relationship with university Denton, TX (January 12, 2017) – PointBank, a family-owned community bank with more than 135 years of faithful service in Denton County, was honored on November 10th at a reception hosted by the University of North Texas' North Family Business Association student group, in conjunction with the College of Business, as the Student's Choice Family Business of the Year.
The event signifies a budding relationship between the bank and university. Ray David Jr., who succeeded his father, J. Raymond David Sr., as PointBank's president in 2004, said, "We were absolutely blessed to have the opportunity to be recognized for this award. What makes it special is the fact we were chosen by a wonderful group of students who clearly have a desire to learn and be just as much a part of the fabric of this community as we do at PointBank. We are humbled."
The Family Business of the Year award is presented annually to a local family-owned business that exemplifies success and what it means to serve and be an active member of the community. J. Raymond Sr. spoke on behalf of PointBank to a crowd of family business owners, UNT College of Business faculty and students about what has made PointBank a successful family-operated business in North Texas.
PointBank has been a staple of Denton County since 1881 when it was then known as Pilot Point Bank. The David family has operated the longstanding financial institution since 1981, and its motto of treating every customer like they are the only customer exemplifies their commitment to service. Each year, PointBank employees – including the David family – hold themselves accountable by volunteering their time for a variety of charitable organizations. This includes the company's annual golf tournament, which is fast approaching its 30th year and benefits local charities.
In an effort to further deepen its relationship with UNT, PointBank and the College of Business are working together to provide students with opportunities to apply what they are learning through case studies, interviews, and community events. PointBank intends to act as a resource and sounding board for the students in any way possible. "We want to make our company available for these students," said Aaron Benedict, PointBank's Regional Branch Manager for Denton and Lake Cities. "I'd like to think these students chose us for this award because we engaged with them and we have shown we want to further that partnership."