Business Services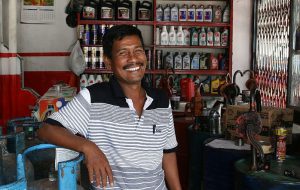 Business customers throughout Denton County rave about PointBank's ability to cover them from A to Z. At PointBank, our commitment to the customer doesn't stop with a few checking and savings accounts. We take it several steps forward by offering exclusive benefits like our networking opportunities. Couple all of that with friendly and available bankers, and you have an all-encompassing relationship for our business customers to take advantage of.
We understand that business owners need to be able to accept payments beyond the traditional check or cash transaction. At PointBank, we offer our business clients the ability to accept credit cards for payment. The program is versatile enough to where most of those transactions can be done using your smartphone.
Merchant Services is just one piece to the treasury management pie we have here at PointBank. Now more than ever, business clients have access to a variety of ways to send and receive payments, remotely scan check deposits and offer direct deposit to employees.
We understand that having access to your accounts is a top priority, even when you are not near a computer. With X-Press Banking from PointBank, our customers enjoy telephone banking 24 hours a day for those times you need to check balances or verify deposits.
Go green! Instead of receiving monthly bank statements in the mail, you can access the same detailed information online – increasing security, convenience and reducing the amount of paper you use. E-Statements at PointBank are saved for 2 years and can be accessed anytime using our online banking or mobile app.
Enjoy 24/7 cutting-edge access to all your accounts securely online across all devices when it is convenient to you. Our online banking was built with you in mind, giving ease of access to account balances, transaction history, statements, account alerts and more.
Banking has never been so accessible. With mobile banking from PointBank, our customers not only have the ability to access their accounts and statements anytime, anywhere, with a smartphone or other electronic device, but they can also remotely deposit checks.
As much as we all try to avoid overdraft charges, PointBank realizes mistakes happen. Our unique overdraft protection will help cover your overdrafts up to a certain amount, including fees, thereby saving you the embarrassment and inconvenience of a returned or declined item. The amount of discretional overdraft privilege we offer varies depending on your banking habits, and each customer has the option to opt in or opt out of this service.